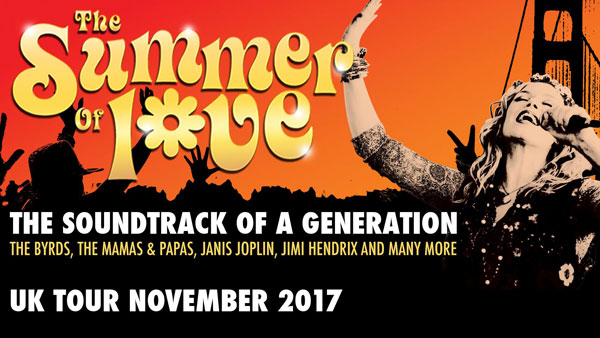 Take a nostalgic journey to the incredible summer of 1967. The Summer of Love anniversary concert is a celebration of the flowers, psychedelia, freedom, peace, love and a whole host of unforgettable music that inspired a generation. The summer that became one of the most important cultural moments in history.
Featuring original footage captured in the era, The Summer of Love blends film from the defining decade with a full live band to create a phenomenal performance of hits, such as 'California Dreaming', 'San Francisco', 'Turn Turn Turn', 'Somebody To Love', 'Happy Together', 'Brown Eyed Girl', and over forty more classics from the sensational summer.
The 1960's proved to be a turbulent, political decade, and one of many changes. These struggles had a lasting impact on the decade, and are an important part of the show. Events such as Haight Ashbury, Vietnam, race tensions in the states, experimentations with drugs, youth culture and the draft are respectfully covered within the show.
Director Stuart Price says: "It's a celebration of the culture of the era and it's a celebration of the freedom and the love of the era. 1967 was a time of real change – artists such as The Doors and
Jimmy Hendrix were pushing musical boundaries that inspired generations to come. There was a real energy about the recordings back then and we want to make sure that this concert captures that energy – taking the audience right back in time."
Musical Director Jake Field leads a world class live band featuring many West End musicians and vocalists in this dynamic concert performance. He adds "This show brings together all the elements that made The Summer of Love in 1967 so special and iconic. The music is set against a backdrop of original and nostalgic 1960's film footage that documents the key political and cultural at that time."
The tour, produced by Maple Tree Entertainment Ltd, opens at the Octagon in Yeovil on November 2nd and takes in 23 major theatres in towns and cities across the UK.
THE SUMMER OF LOVE
Tuesday 21 November 2017 7.30PM
Pricing £21.00 & £23.00
Children: £11.00
Groups 10+: Buy 10 tickets get 1 free